Bulls | Steers | Bull Calves | Mature Cows | Young Cows | Exposed Heifers | Unexposed Heifers | Heifer Calves
Package Deals | Featured Buys | Sold Cattle | Things to Know | News | Pretty and Productive | About Us
---
Updated: 3/07/16
Back to News Archives




Rocking O's Ross Ohlendorf wins Milking Contest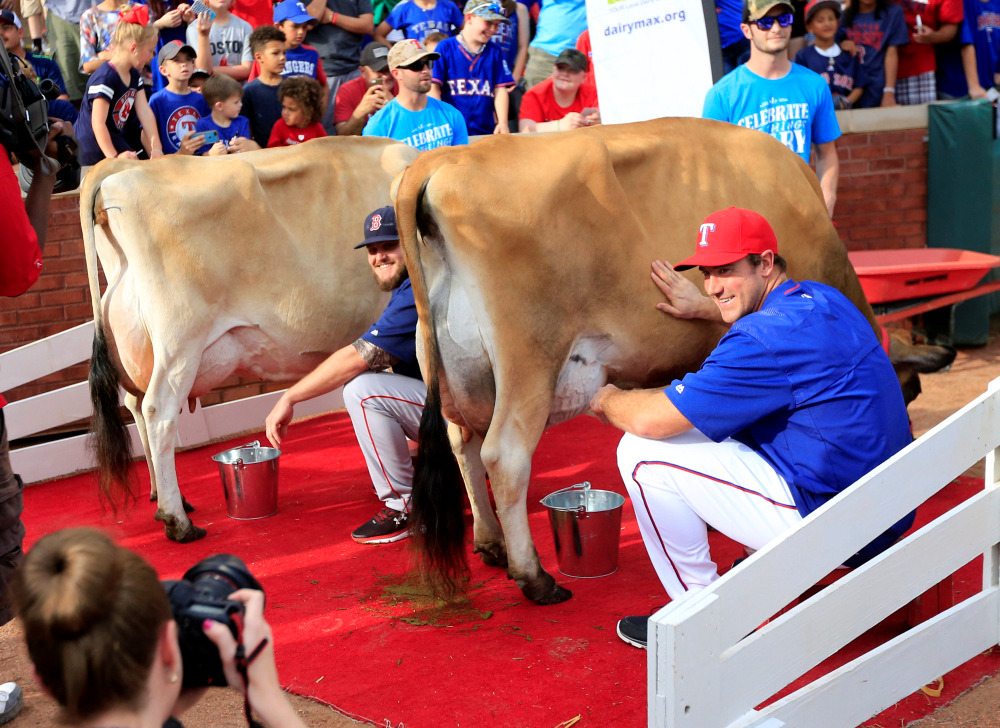 Ross Ohlendorf, while playing for the Texas Rangers, beats Red Sox's pitcher Wade Miley in a pre-game milking contest at the Ballpark at Arlington.



By Mark Townsend
Published: May 30, 2015
Click here for article

It's a tradition unlike any other at Globe Life Park.

On Friday night, the Texas Rangers held their annual "Farm and Ranch Day" as they prepared for their second game against the Boston Red Sox, and as is always the case, the night's proceedings included a pregame cow-milking contest between players from the respective teams.

This season, the Rangers were represented by Lockhart, Texas native Ross Ohlendorf, who actually grew up on a Longhorn ranch. Though he entered with limited cow-milking skills, he still fit the bill better than anyone else on the roster.


"There is definitely a difference," Ohlendorf said. "But I'm excited to get down in there. I think I milked a cow once when I was younger. I watched a YouTube video last night to prepare."

Proving once again that Youtube is the best educational tool we have left. Well, aside from Big League Stew that is.

Ohlendorf was opposed by Red Sox left-hander Wade Miley, who apparently had a noted advantage in the experience department.


"I heard Wade Miley grew up on a dairy farm," Ohlendorf said. "I don't know if that's true, but if it is, I don't think I have much of a chance."

Apparently it didn't matter one way or the udder other. Ohlendorf rose to the occasion to snap the Rangers cow milking losing streak.