Bulls | Steers | Bull Calves | Mature Cows | Young Cows | Exposed Heifers | Unexposed Heifers | Heifer Calves
Package Deals | Featured Buys | Sold Cattle | Things to Know | News | Pretty and Productive | About Us
---
About Us at Rocking O Longhorns
The Mission
To spread the joy of owning Texas Longhorns
The Ranch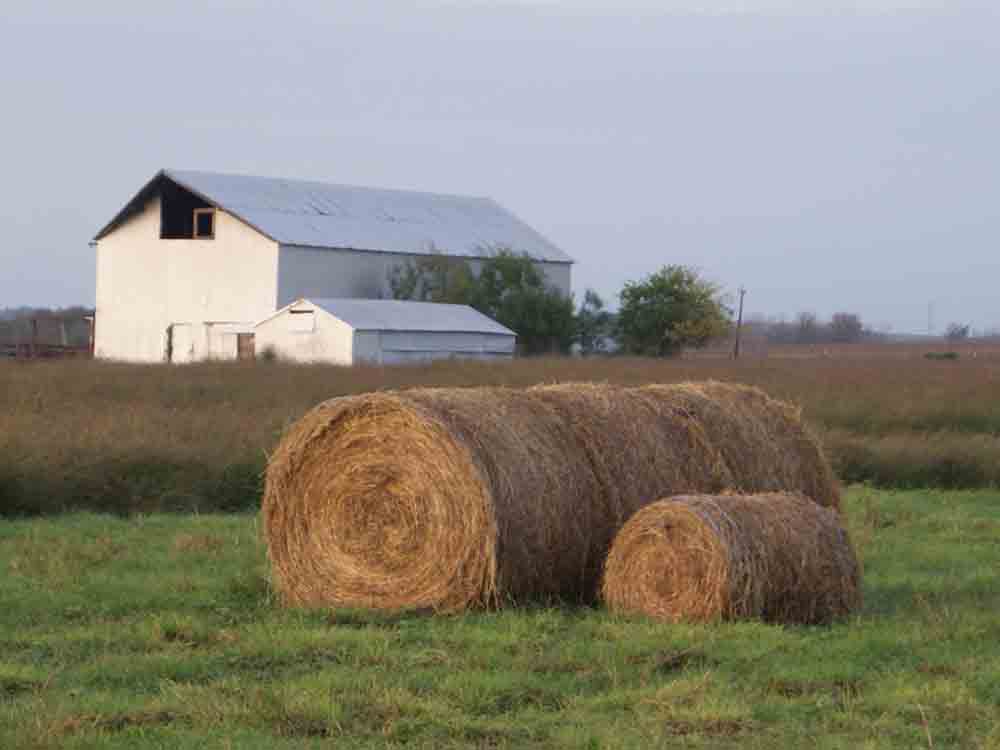 Our ranch is located about 25 miles Southeast of Austin, and we have leased 1100 acres several miles south of Lockhart.
We would enjoy showing you our cattle. You can email Curtis at cohlendorf@austin.rr.com or call him at (512) 680-7118 if you would like to set up a time to visit.



The People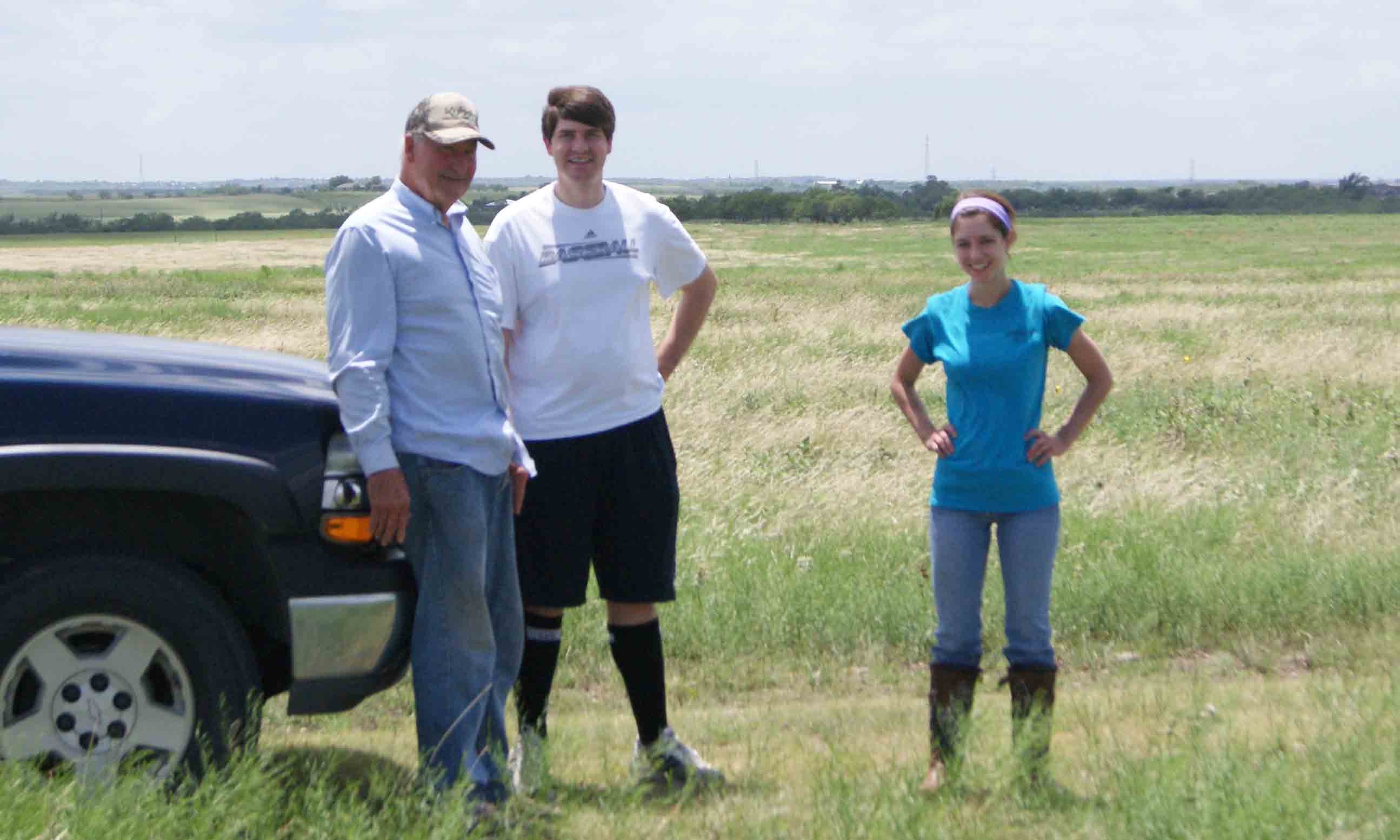 Curtis, Chad, and Lex Ohlendorf

Rocking O Longhorns is a family owned and operated ranching operation.
Some of us have other significant time commitments, but we all enjoy the cattle and the time spent together bonding at the ranch.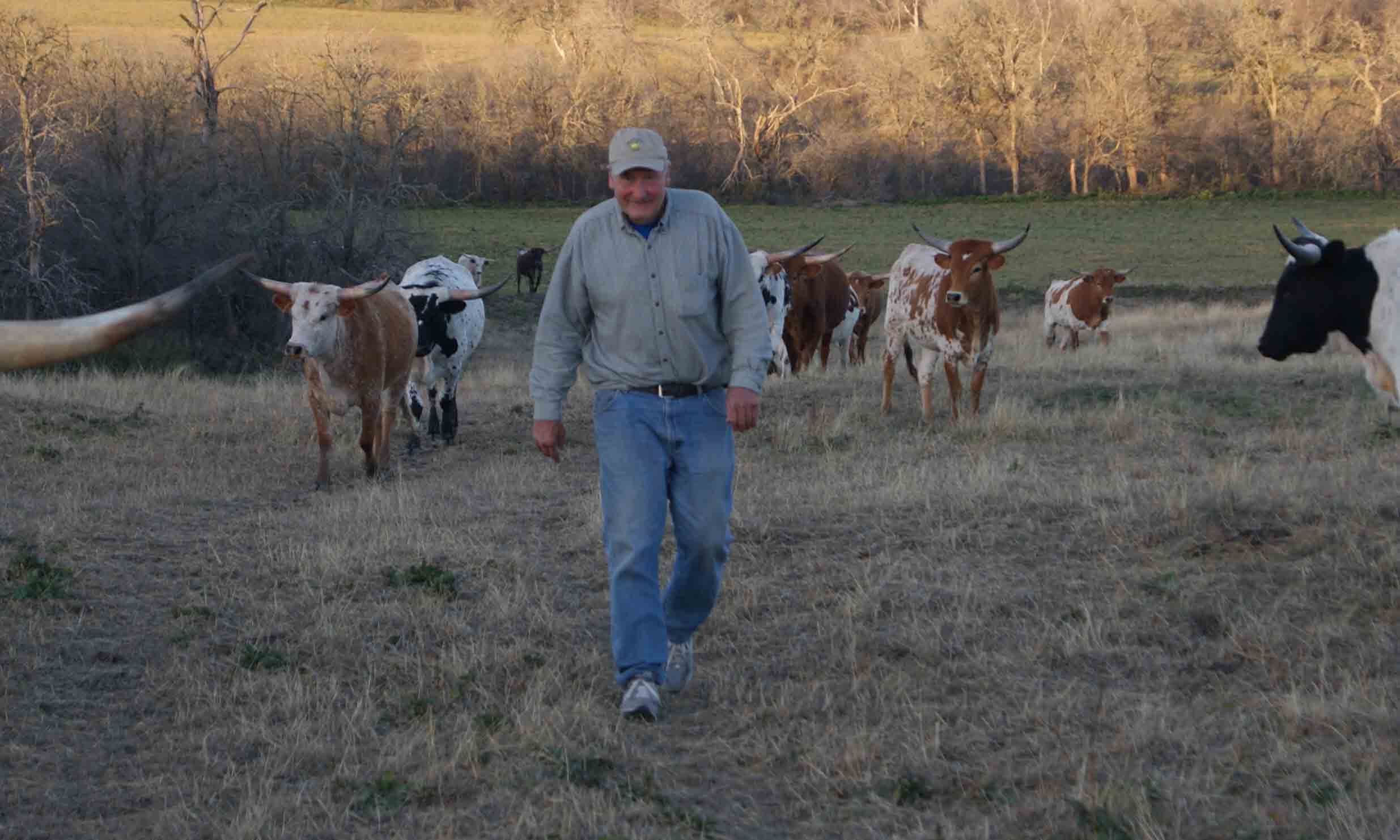 Curtis Ohlendorf

Curtis Ohlendorf is a fifth generation Texas farmer/rancher and is the one most responsible for making Rocking O Longhorns what it is today. His love of animals and agriculture, along with a chance sighting of a colorful newborn longhorn at a cousin's ranch, were the inspiration of our herd. With help from his sons, he slowly grew the herd by leasing more and more land. Fence and pasture improvements were commonplace, and many a hot Texas day was spent carrying fenceposts and wire through rugged terrain. Since retiring from the University of Texas in 2008, he has managed to fill his time with the various activities involved in managing a cow herd that numbers about 170 breeding age females spread out on 2000 acres. As you can see by this picture, he is always on the move!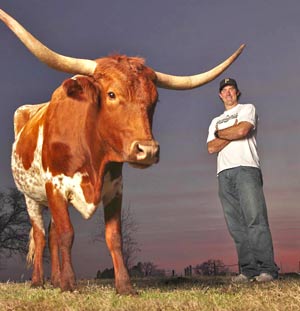 Ross Ohlendorf and CO Shamrock (picture courtesy of Sports Illustrated)

Ross Ohlendorf inherited his father's love of ranching, but his job as a Major League baseball pitcher has him away from the ranch for about eight months of the year. He helps out at the ranch when he's home, and he stays as involved as he can during the season. He manages the website and handles most of the marketing. He has also taken advantage of his travels by stopping by a number of herds around the country. After playing for the New York Yankees, Pittsburgh Pirates, San Diego Padres and Washington Nationals, he was thrilled to be able to stay close to home for the 2015 season, signing with the Texas Rangers. That season was highlighted with a save in game 2 of the playoffs against the Toronto Blue Jays. For 2016, he ventured out of state again to be a relief pitcher with the Cincinnati Reds, and for 2017 he has decided to go International. He is looking forward to a great season as a starting pitching for the Tokyo Yakult Swallows. His love of longhorns has been well documented over the years, with feature stories in Sports Illustrated, The New York Times, Modern Farmer, Texas Monthly, the Texas Longhorn Journal, and most recently in a Tokyo newspaper.




Our Customers
Our customers are key to us fulfilling our mission to spread the joy of owning Texas Longhorns. They generally fall into one of two groups. The first group is new breeders. Many new breeders are looking for a fun way to get their ag exemption, and they are drawn to longhorns for a variety of reasons including their eye appeal, their variety, their role in Texas history, and their ease of care. We also have a number of UT alumni looking for a longhorn or two to add to their commercial cow herd. The second group of customers is established longhorn breeders. These customers are often looking for something specific to enhance their program, whether it is a top young bull or heifer or one of our good producing cows. Our customers have included some of the most veteran breeders and owners of some of the most elite herds in the country.

There are a lot of good breeding programs out there, and we really appreciate our customers coming to us to start or add to their longhorn herd. In addition to offering great cattle, we strive to provide a great buying experience and ongoing customer service after the sale. We have experienced a lot in our twenty plus years raising longhorns and enjoy sharing our knowledge and opinions with our customers. We want our customers to have a positive buying experience and to get a lot of enjoyment out of their longhorns, and we have been rewarded with great relationships and a large number of repeat buyers.


Herd History
updated 9/16/2016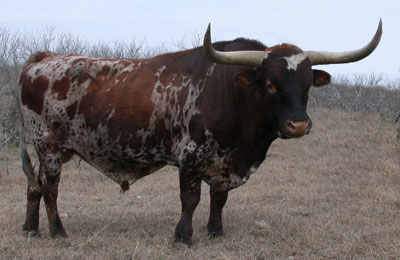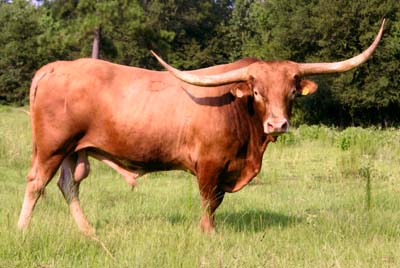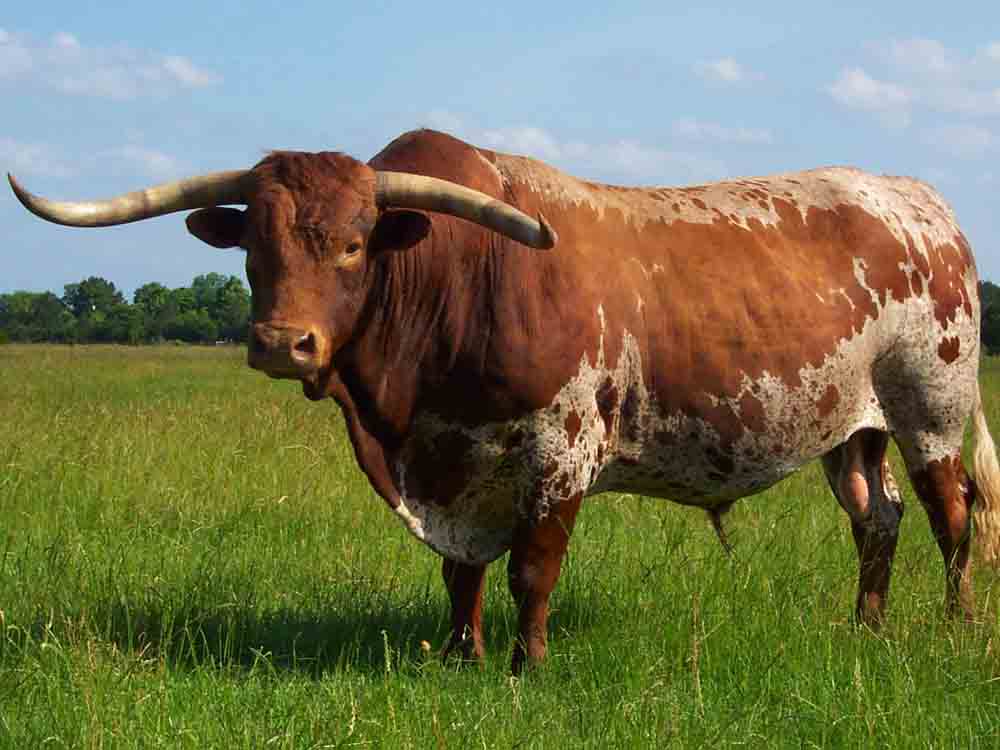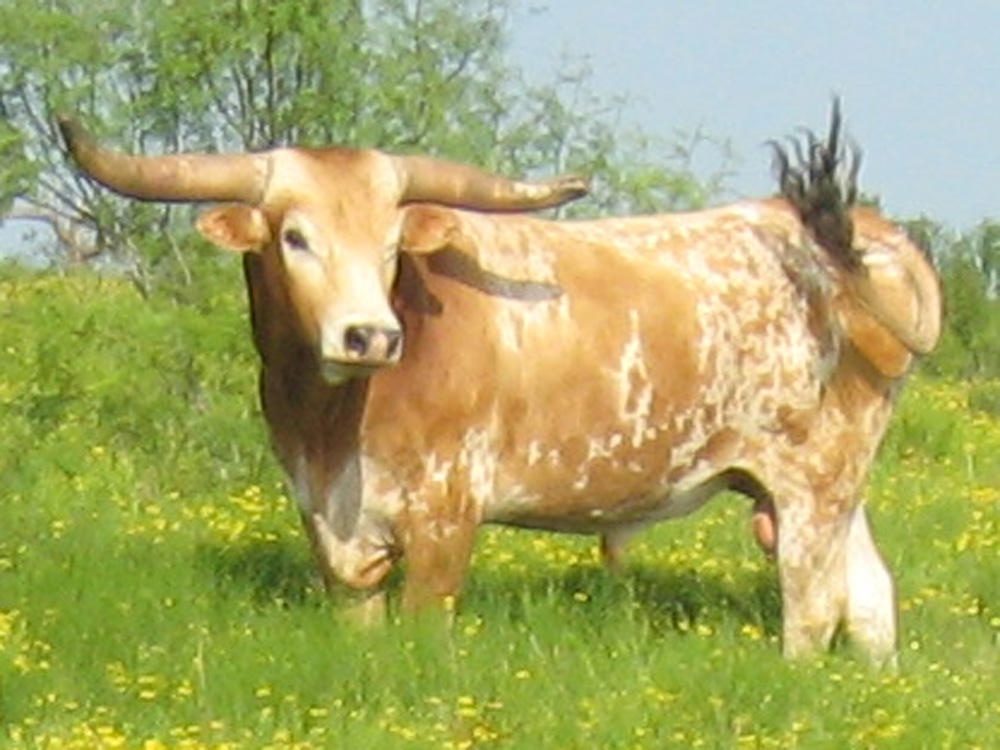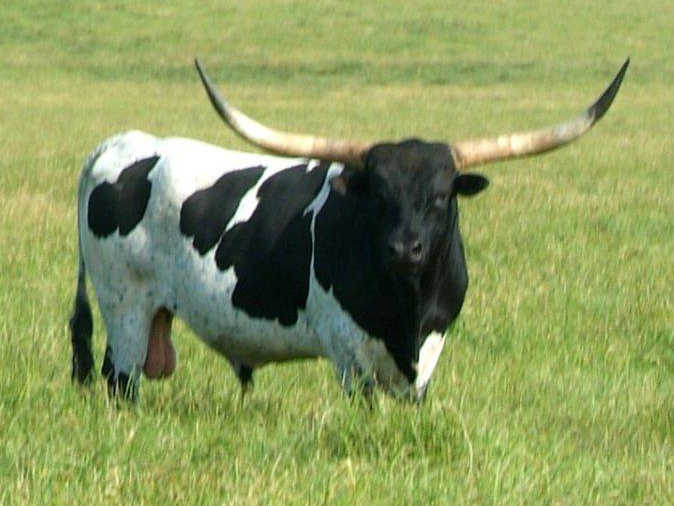 We bought our first three longhorns in January of 1996 from Bob Coffee's Travis Peak Ranch. Mr. Coffee was named the TLBAA Dave Evans Breeder of the Year in 1999 and served as a great mentor for us in establishing our herd. The majority of our cattle trace back to Travis Peak Ranch, where we purchased our first two herd sires named Ranger's Roughneck and Brawl. They were both out of the wonderful cow India, who was one of the top producers of show winners during her lifetime. We owned Brawl through his death in December of 2006, and in 2010 we had over 40 of his daughters in our herd. In the fall of 2016, we are down to only 6 of his daughters, but most of our cattle trace back to this magnificent bull. He sired tremendous size and mothering ability, great color and his gentle disposition. We were able to use his son Big Chief as his replacement for a few years. Big Chief placed second in his class at the 2003 TLBAA World Show, where he was the biggest bull his age. We also had the pleasure of raising Blue Jacket, the 1999 TLBT National Grand Champion Bull and TLBAA Reserve Junior World Champion Bull. His calves were very correct and thick, with great color and slick coats.
We have always preferred cattle with good horns but were primarily concerned with raising big, healthy, colorful calves in our early years. As we began paying more attention to the market we decided to increase the emphasis on horn length in our breeding program. In the spring of 2002, we purchased Capone from Darol Dickinson's ranch in Ohio. Capone had both the longest horns and the third best weaning weight from Darol's crop of bulls that he had made available for sale. While pleased with our purchase, we were not aware of just how tremendous a bull Capone would become. His horns surpassed the 70" mark before his 4th birthday, giving him some of the longest horns in the breed at the time. We sold Capone in 2006 but retained about 40 of his daughters. In the fall of 2016, we still have 9 of his daughters going strong and producing wonderful calves for us. Stockton Ranches bought not only Capone but also one of his daughters, CO Pinta, from us. CO Pinta was a colorful heifer with long, flat horns (from her sire) and good thickness (from her grandsire Blue Jacket). Stockton Ranches sold CO Pinta at the 2006 Legacy Sale for $49,000, making her one of the highest selling heifers of all time. We are very proud to have raised this heifer and happy to still own many of her sisters.
After selling Capone, we decided to purchase two more bulls, Winner's Edge and Undeniable, from Darol Dickinson. Both bulls were sons of Winchester, who was the first bull we knew of to both weigh over a ton and have a tip to tip measurement over 70 inches. Undeniable was a full brother to Victory Lap, one of Darol's main herd sires. We used Undeniable for a few breeding seasons before deciding to sell him in favor of our other up and coming bulls. Winner's Edge was a staple of our program for six years, still the second longest tenure of any bull we have used behind Brawl's ten years. Edge's dam Queen of Not had 69" horns at age 7 and weighed 1160 pounds. We are incredibly happy with the job he did for us. He produced beautiful females with tremendous horn, color, conformation and milking ability. In the fall of 2016 we have 27 of his daughters remaining, and we see most of these cows as the core of our young cow herd. The Winner's Edge daughters out of Capone daughters out of Brawl daughters are very complete cows and great examples of the "pretty and productive" females we aim to raise at Rocking O.
From 2007 through 2010, Winner's Edge shared senior herd sire responsibilities with a tremendous Emperor son named Emperor's Echo, who we purchased from Rafter H Longhorns. As you can see from his picture, Echo was a magnificent bull. Not only did he have amazing size and conformation, but his total horn measurement was also very good for his time. He was one of a small number of bulls to win both in the show circuit and the horn measuring contests, where he beat the great Boomerang CP. Echo's dam Country Girl sold for $17,000 as a 13-year-old and is one of the cornerstone females of the great El Coyote program. Echo's calves had great appeal for the show circuit. His daughter CO Appaloosa won Grand Champion Female in the youth shows at both the 2013 Houston Livestock Show and Rodeo and the 2013 TLBGCA Spring Show. We have four of Echo's daughters remaining in our herd, and they are very nice producers. They regularly calve at 10.5-11 month intervals.
In May of 2010, we purchased the great Awesome Alamo from Panther Creek Ranch and Hudson Longhorns, and he maintained his role as a senior herd sire here for over four years. He was a beautiful bull, with great thickness, conformation, color, horn and pedigree. His dam, Hatch's Candy Cane, is regarded as one of the top cows in the breed. Her offspring include SDR Candy Cane and Awesome Teardrop, who sold for $170,000 (the all-time record for a longhorn cow) and $80,000 respectively. Alamo's first calf crop of 10 included a heifer with 70" horns before her fourth birthday and another heifer that sold for $25,000 and is currently over 80" tip to tip. He also produced a number of wonderful bulls and heifers for Bill Hudson and Joe Valentine, and his offspring are owned by successful breeders around the country. Alamo was one of the most consistent producing bulls we've seen. His calves have moderate frames, beefy bodies and great early horn growth. Many of them have flashy colors as well. We have 18 of his daughters remaining in the fall of 2016, and a number of them are among the best cows we have raised.
For three years,
JP Grand Richy
shared senior herd sire responsibilities with Alamo. We purchased him at the 2011 Longhorn World Championship, where he had a total horn measurement of 103.5". This was the second best total horn measurement at the event, placing him ahead of his paternal brother JP Rio Grande, as well as Top Caliber and WS Jamakizm. Richy was the biggest-bodied bull at the event, and we felt fortunate to be able to buy him from Tom Christopher. Richy gave us large calves with a very healthy and growthy appearance, as well as great colors. We have maintained several nice daughters from him, and early indications are that they are a great match with JR Laredo.
In 2014, we promoted our exciting junior herd sires
JR Laredo
and
Rolling Thunder
to senior herd sire status, giving them each about 40-50 of our best cows. Laredo won bronzes for ttt and composite horn at his only measuring competition. He is currently over 83" ttt and has been producing wonderful horn, as well long bodies and pretty dark pigments, on his calves. Rolling Thunder is a son of Creole Dixie Lee, a big bodied cow with one of the most magnificent horn sets in the breed. She has also proven herself as a tremendous producer, with all of her mature daughters measuring at least 70 inches ttt and two of the three oldest already measuring in the 80's. We love Thunder's look and are thrilled to have been able to acquire him from Hickman Longhorns. His daughters are long and tall, with a very feminine and graceful look. Both of these bulls have good height. It also appears that both of them will produce twisty horns in their offspring, which we are very excited about. We are particularly excited about using Thunder on our Alamo daughters to combine legendary females Hatch's Candy Cane and Creole Dixie Lee in the same pedigree.
We have added several very good bulls in 2015 and 2016 to compliment JR Laredo and Rolling Thunder. We spent over a year looking for a black and white bull to replace Awesome Alamo. We had really liked
Plumb Line
at Dickinson Cattle Company, but he was not for sale until the summer of 2015, when we quickly jumped on him. He is a larger bull with a gorgeous black speckled face. His two year old daughters are doing very well at Dickinson in the horn department. Our first Plumb Line calves are here, and they are strong, healthy looking calves with great color. A few months after buying Plumb Line, we added the 2012 TLBT National Grand Champion bull
JTW Testosstyrone
. Testosstyrone is one of the best complete package bulls out there, with great color, great body, and a horn pedigree for both length and twist. We put him with a large number of females in 2016 and should be getting quite a few calves starting in late fall of 2016. We are also very excited about our junior herd sire
LAR Raylan
. He is son of the great horn and conformation sire Clear Win, and his dam was a colorful, big horned cow with a tremendous pedigree. We have a handful of his calves on the ground, and they are excellent.
We have had some great bulls over the years, but no purchase has been more exciting then when we added
Lots Of Flair
in the summer of 2016. From what we have seen, Lots Of Flair combines thickness, beautiful colors, and mothering ability as well as any bull in the breed right now. His dam Shot Of Victory has the second best average weaning weight of over 100 cows at Dickinson Cattle Company, one of the premier herds for large weaning weights. Lots Of Flair is a very heavy bull for his age, and his sire WS Jamakizm has produced some of the most sought after females in the breed, with large frames, brindle coats, and great horn length. We plan to use Lots Of Flair very heavily going forward to produce beautifully colored calves that will grow into the "
pretty and productive
" mothers we look for at Rocking O Longhorns!
Thank you for reading about our past and present herd sires. As you look through our website, you can click on an animal's picture to see more information, including a price, pedigree, short description, calving information, additional pictures, and horn measurements (with projected horn length at maturity courtesy of Malcolm and Connie Goodman). We hope you enjoy browsing our site.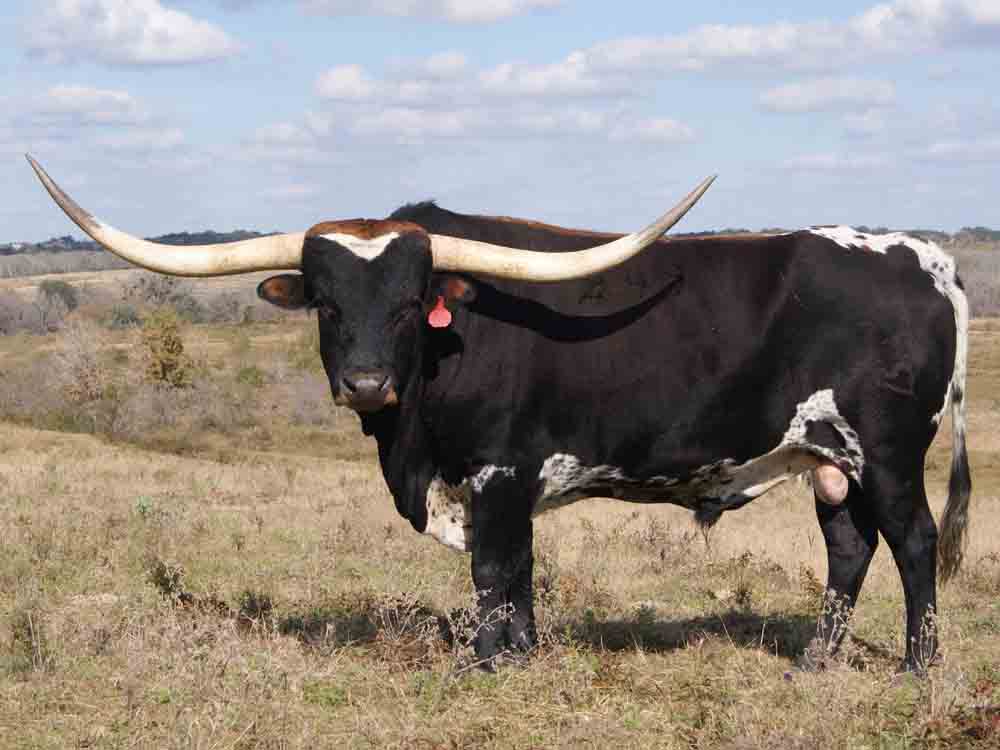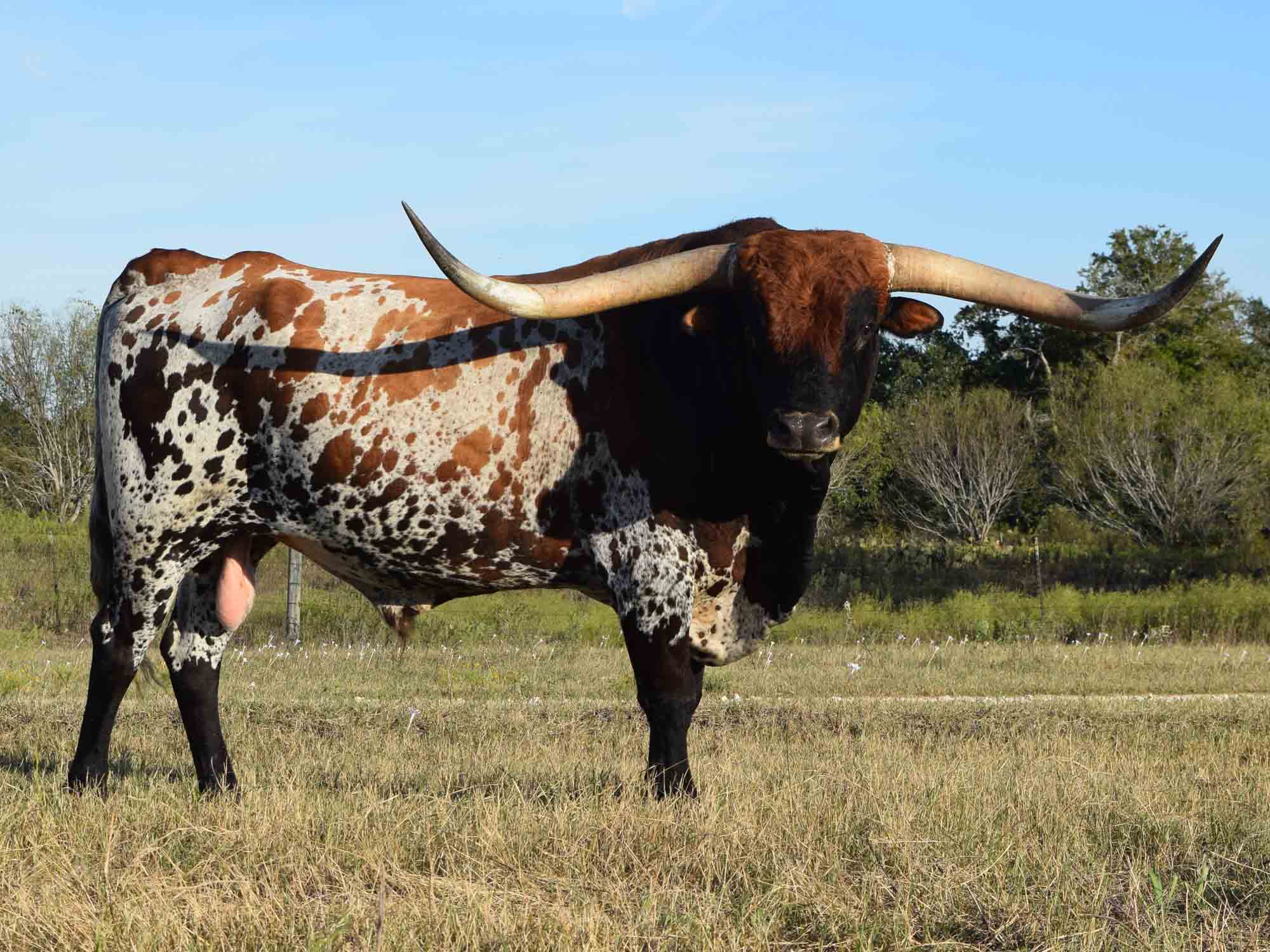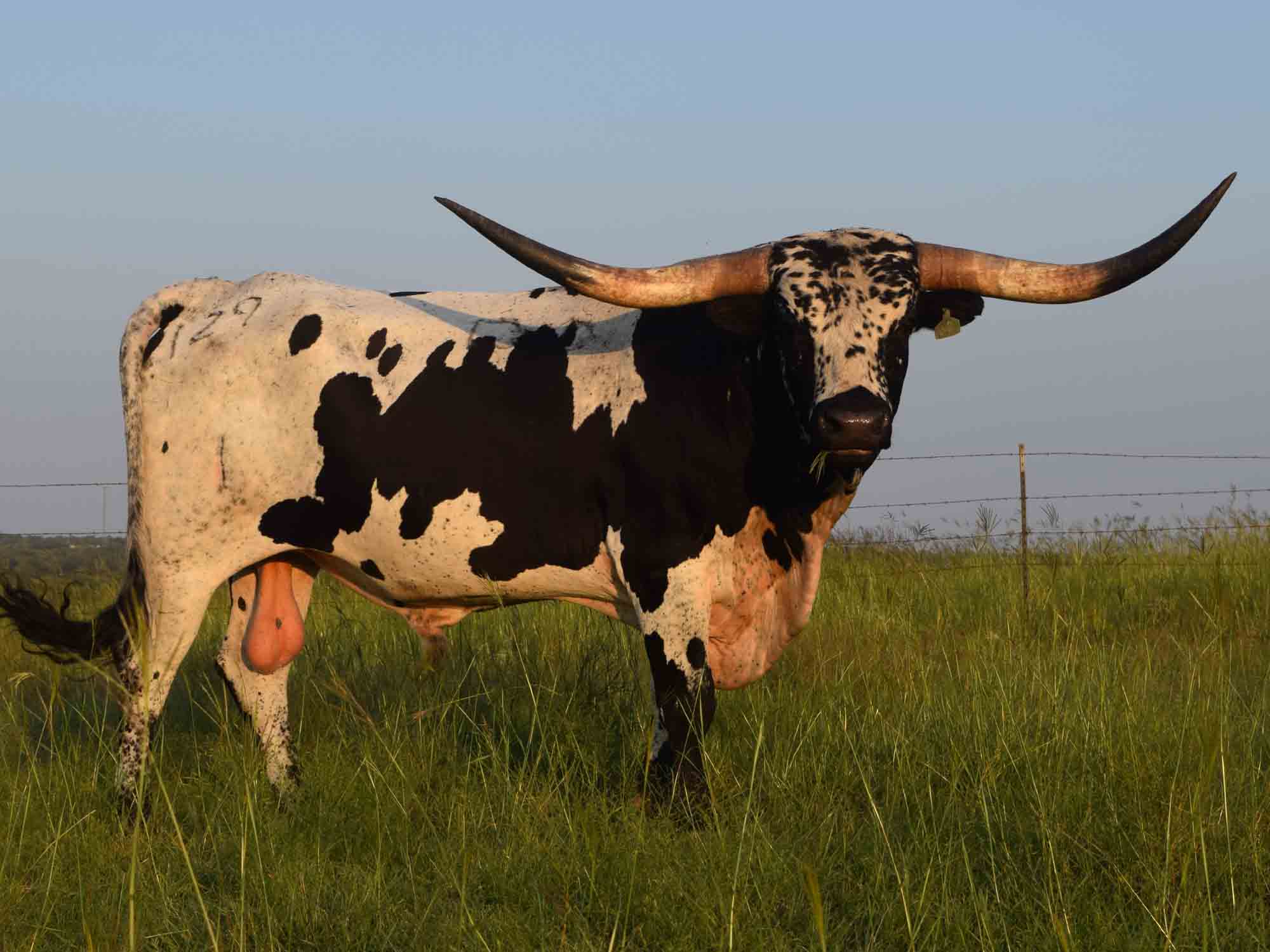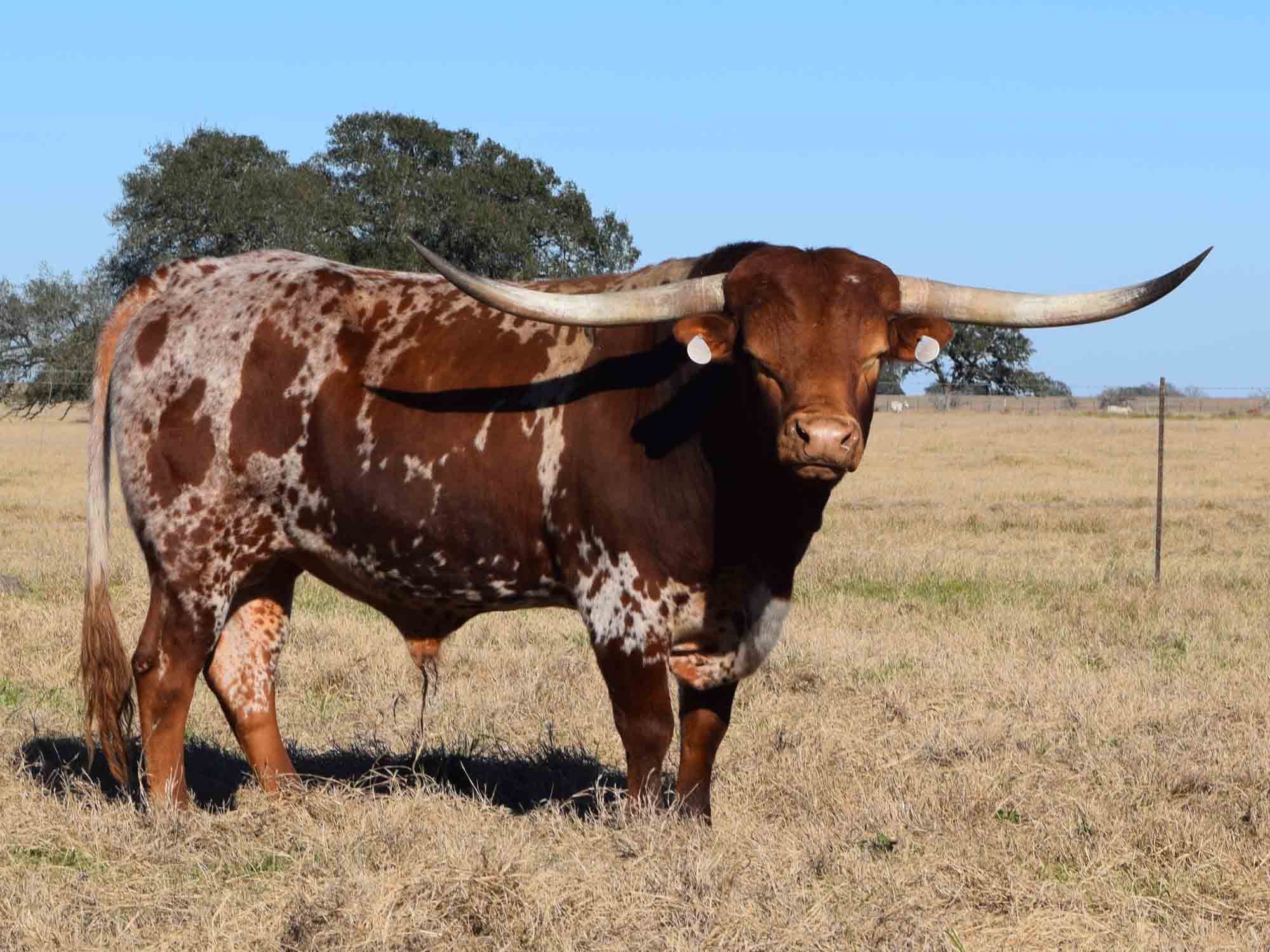 Bulls | Steers | Bull Calves | Mature Cows | Young Cows | Exposed Heifers | Unexposed Heifers | Heifer Calves
Package Deals | Featured Buys | Sold Cattle | Things to Know | News | Pretty and Productive | About Us


Rocking O Longhorns Austin, TX cohlendorf@austin.rr.com RockingOLonghorns@gmail.com (512) 680-7118
This page and all contents are copyrighted by Rocking O Ranch. All Rights Reserved.
"Pretty and Productive"
© COPYRIGHT 2006 -2018